2020/21 was a huge year for us at Actor Tribe. We produced Actor Tribe Films first feature film LITTLE BOXES, directed by award-winning director Raffaello Degruttola and starring our actors.
In the movie's first few weeks on the international film festival circuit, LITTLE BOXES won many festival awards including,
*BEST COVID 19 FILM* @ the
MIAMI INDIE FILM AWARDS
*BEST INDIE FEATURE FILM* @ the
ROME MOVIE AWARDS
*SEMI FINALIST*
FLICKERS RHODE ISLAND INTERNATIONAL FILM FESTIVAL (OSCAR & BAFTA Qualifying festival)
*HONOURABLE MENTION* @ the
FLORENCE FILM AWARDS
We are also currently FINALISTS in the
STOCKHOLM FILM& TELEVISION AWARDS &
ONYKO FILM AWARDS, ESTONIA.
We've been OFFICIALLY SELECTED at both
ROME INDEPENDENT PRISMA AWARDS &
NEW CREATORS FILM AWARDS where we were nominated in Best Narrative Feature and Best Producer categories.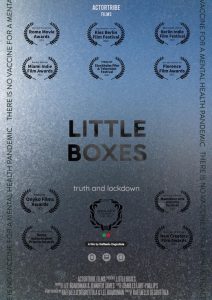 We remain committed to bringing our actors the very best professional experiences.
LITTLE BOXES was shot entirely on Zoom during the height of the Covid lockdown. Whilst deep into pre-production to shoot another improv-based film in the traditional, location-based sense, the pandemic struck our plans a fatal blow. Having no other option, we decided not to concede defeat and made the decision to create the best, most realistic project we could with what we had at our disposal, under the most difficult of circumstances, inspired by Lars von Trier and Thomas Vinterberg's "Dogme 95 Manifesto".
LITTLE BOXES is a drama about how governmental decisions during the pandemic affect the lives of ordinary people in a small corner of Northern England. This hyper-realistic, performance based film takes you on a journey through the world of video calling, observing the strain on relationships through these tiny Zoom windows – their own "little boxes" – and the pressures of enforced incarceration, paradoxically leading to revelations of truth.
Isolated by the virus, the whole world has had to try hold our loved ones close through a new means of communication, whilst we assess the still unknown, long term mental health issues, especially in our young.
The pain of separation. Together, yet apart.
LITTLE BOXES proves that necessity is the mother of invention and that art will always find a way.
The actor's own lived experience of lockdown seeps through into their characters, alongside the mental pressures we were all buckling under. This enforced style of shooting created a safe place for the characters to communicate in a way that might not have been possible in a conventional filming environment.
The movie's director Raffaello Degruttola said, " After the Covid pandemic pulled the rug from under our planned project, I had an idea that I thought worth shooting and decided to make it in the most unconventional way, rather than be stuck in pre production for decades. This is my third feature that started with an idea and a group off people committed to the journey. Generally my approach is to work with the actors creating an ethos that uses hyperrealism as a cinematic style while exploring current cultural and social conditions."